In 1975, amidst the usual tedium and weariness of a family gathering, a spark of inspiration ignited within photographer Nicholas Nixon. As he found himself growing bored during a family dinner at his in-laws' house, Nixon's creative mind began to stir. His eyes fell upon his wife, Bebe, and her three sisters, captivated by their presence and the potential for a remarkable project. Little did anyone know the profound impact that a simple request would have over the next four decades. Seizing the moment, Nixon approached the sisters with a proposition: to capture an image of them together, posing in the serene embrace of the garden.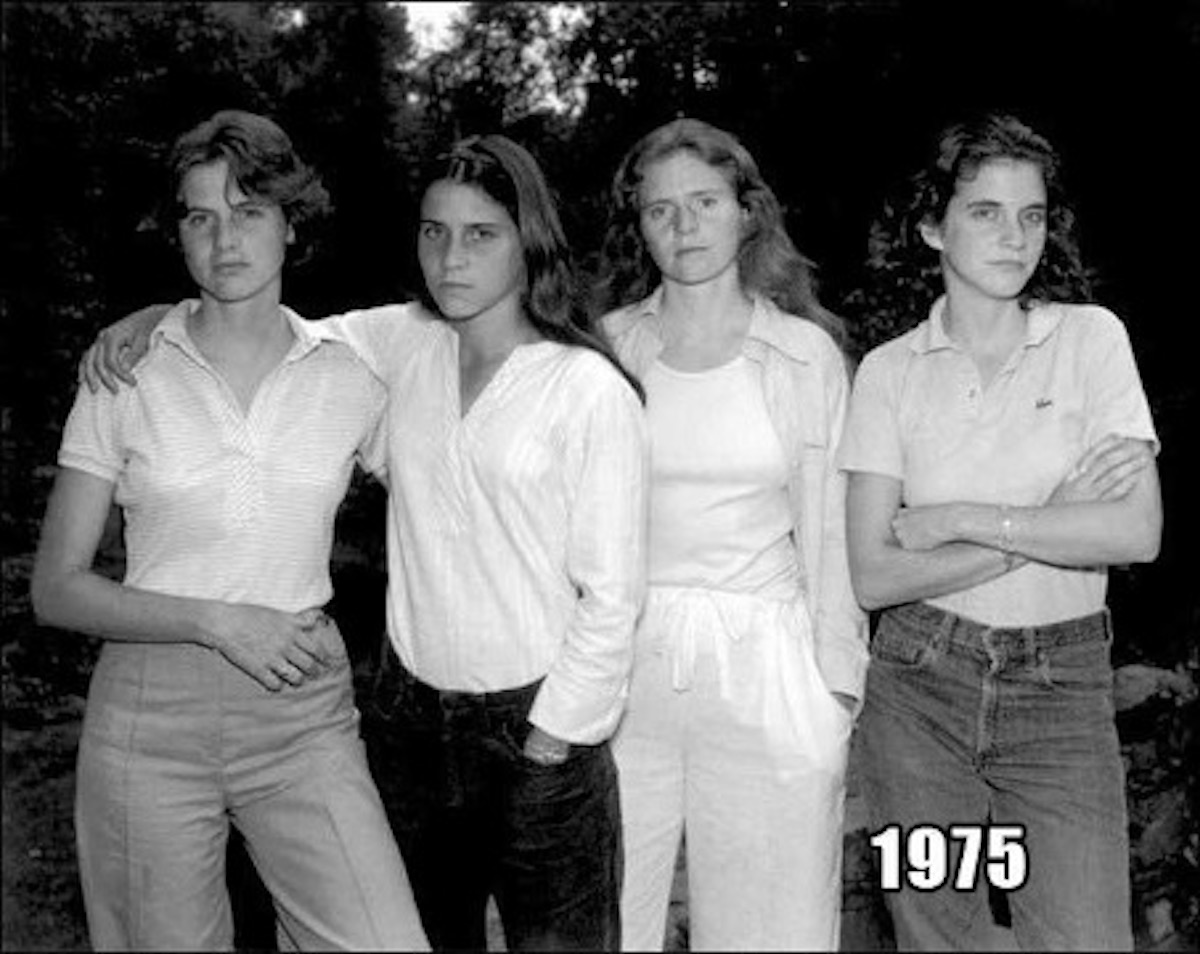 1975
The anticipation lingered in the air as Nixon's request hung delicately between them. With a mixture of curiosity, trust, and perhaps a hint of skepticism, the sisters agreed to his proposal. Gathering under the gentle sunlight, they embraced one another, their smiles bright and their gazes brimming with youthful energy. Unbeknownst to them, they stood at the threshold of an extraordinary journey—an intimate chronicle of time's passage and the enduring bond that tied them together. Nixon clicked the shutter, freezing that very moment in a photograph that would mark the genesis of an extraordinary project, forever known as "The Brown Sisters."
And so, with a single click, the seeds of a remarkable visual odyssey were planted. In that fleeting instance, a tradition was born, a tradition that would see these four sisters return to the garden year after year, posing for the camera's lens. The innocent spontaneity of that first photograph belied the extraordinary nature of what lay ahead—a testament to the power of photography to capture not just moments but the very essence of familial connection. With that single click, Nixon set into motion a journey that would reveal the beauty of aging, the strength of sisterhood, and the bittersweet passage of time.
Check out the rest of the stunning and poignant photos on the next page. Don't forget to check out the last photo. It's heartbreaking!